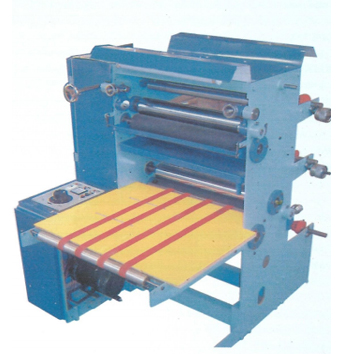 Product Description
Specifications:
24" & 30" sizes available.
Ideal for Bopp or PVC on Paper,board.
Sheet form as well as roll form.
Steel Body.
All rollers mounted on ball bearings.
Rollers are hard chrome plated to give extended selflife.
Pressure roller rubberised with natural rubber with specific hardness.
Variable speed drive to adjust the required lamination speed.
Individual Tightening arrangement for conveyors belts.
Lamination is gaining importance everyday. The film not only enhances the aesthetic appeal but also protects from grease moisture and handling. Today booklet covers, instruction manuals, leaflets, greeting cards etc are laminated to meet the increasing demands of clients.
Salient Features:
Compact, Sturdy, Easy to operate, Easy to maintain are some of the special features of this machine.
Adjustable speed helps to process jobs of different length. The coating and processing ends are provided with coating systems levers reducing wastage of film. The adhesive tray has a lifting drive system to avoid wastage of material.
Wrinkle free lamination is ensured by special chrome bearing drive free rollers. The electric controls are in a compact unit near the operator.
Application:
Paper of various types duplex board - plain, printed, kraft paper etc.
Technical Details:
| | | |
| --- | --- | --- |
| Machine Size | 24" | 30" |
| Height | 63" | 63" |
| Length | 59" | 59" |
| Width | 50" | 43" |
| Electric Motor Variable Drive | 1.5 H.P. 1500 R.P.M. | 2 H.P.1500R.P.M. |